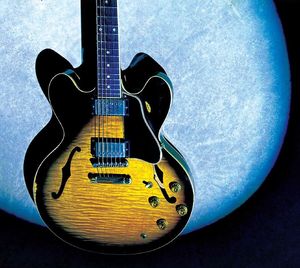 The Strongman Blues Remedy
Canadian blues artist Steve Strongman took a more collaborative approach to making his new Stony Plain Records album, so its Strongman Blues Remedy – Volume One title does the same thing.   
The pandemic played a role in this turn of events, as it caused major changes in the life of a road warrior since live performances were largely taken off the table as clubs and festivals were shut down.   
"It provided me with an opportunity to spend more time writing, which is something that if I weren't in that situation I wouldn't have been able to do in a lot of ways," says Strongman. "It was very much a negative situation turned into a very positive situation."   
Since the removal of touring revenue caused Strongman to take a financial hit, and he missed the instant audience feedback from a couple of live-streamed performances he tried, the talented guitarist, harmonica player and singer turned to the Internet and started regularly giving virtual music lessons to a variety of students via Zoom to supplement his income.   
Strongman also decided to produce an album for the first time, which he found to be a very different experience after working with outside producers on his first seven LPs.   
"I've always approached recording from the artist's perspective," says Strongman, who was born in the Ontario city of Kitchener and now resides a bit farther east in Hamilton.    
"I've learned so much in my career, having worked with great producers like Rob Szabo and Dave King, and I leaned on them heavily during this process. It was a huge learning curve, but incredibly rewarding."   
While Strongman would have preferred to gather musicians and singers together, rehearse his new songs for a week, and then collectively record the best ones, COVID-19 prevented that from happening.   
"I had to not only write the material, I had to record the material in my own studio and demo the material up to present it to the guests that I wanted to have on the record," says Strongman. "At that point I had to take the demos that I had done and individually go to all of the other artists that I was working with and get them to do their parts."   
Strongman is the only guitarist on all of the tracks, and his mastery of the instrument takes centre stage throughout Strongman Blues Remedy – Volume One. He played bass on seven tracks and harmonica on several of them. They were all recorded, along with his vocals, at his own Strongman Studios. He joined drummer Dave King at Hamilton's 51 Sounds studio, but most of the other parts of the album were contributed from afar.   
This includes Jesse O'Brien's keyboards, Alec Fraser's bass and vocals from Harrison Kennedy, Dawn Tyler Watson, Crystal Shawanda and fellow Stony Plain artist Steve Marriner. Strongman isn't just a fan of all of those artists, he also considers them great friends.   
"I've always had an idea to get together with some of my friends and start a blues collective," says Strongman.    
"Every person on this project has been so supportive. Each one said 'Yes' immediately, almost before I could even finish telling them about the idea."     
Strongman considers Kennedy to be one of the best singers in the world, and the vocalist co-wrote and sings on "I Like To Ride With Him." Kennedy's voice also stands out on "I Don't Miss You," which has a bit of a Motown R&B and soul element to it.    
Strongman is equally effusive in his praise of Marriner, Watson and Shawanda, and said he was "flattered and thrilled" that they all came through for him and added their unique takes to the songs they sang on.   
Strongman wrote or co-wrote all 10 songs on Strongman Blues Remedy – Volume One, his first album since Tired of Talkin' came out three years ago.   
"I approached writing these songs with no parameters in mind," he says. "I let the songs develop over time, and then decided how to present them.     
 "Usually I'm trying to juggle touring and, as a result, I'm under time deadlines in the studio. It was nice to be able to step back and allow these songs to breathe."   
"Hard Luck," co-written with Szabo, is a rocking blues song that gets the album off to an energetic start. "Fine Young Man" was co-written with Watson and meant to be sung from her female perspective, while "Tell Me I'm Wrong" was sung by Shawanda but wasn't necessarily written for a woman.   
 Strongman said the up-tempo "Swansong" — a co-write with King and Marriner, which the latter sings lead on — is lyrically on point with what's happening in the world with a chorus that goes:   
"Is it too late? Are we too far gone? Is the sun setting on our Swansong? But you can't get right if you don't go wrong, and if you don't believe then you don't belong."   
 "White Lightnin'" isn't the George Jones country classic, but a slower drinking song with piano and harmonica flourishes adding pleasing elements.    
 The song came from Strongman spending time with blues veteran and mentor Mel Brown, who used to tell him about making moonshine in Mississippi that was called "White Lightnin.'"    
 "Gettin' Stoned," which features somewhat playful lyrics and a throwback sound that could almost be considered ragtime, has an accompanying video.    
 "That song came to be just because I noticed all these pot shops cropping up all over the place," Strongman says of the lyrics. "With the legalization of pot, everybody's getting stoned."   
 While getting all of the artists who appear on Strongman Blues Remedy – Volume One to tour will be difficult since they all have successful careers of their own, Strongman hopes they can all come together for some music festival appearances.   
 Without them, Strongman will be hitting the road and incorporating some of the new songs into his sets along with older material that has helped earn him a Juno Award, four Maple Blues Awards, the Mel Brown Blues Award, a Hamilton Music Award, the Best Guitarist title at the International Blues Challenge, and many other nominations and honours.   
 The new album has "Volume One" appended to the title and, while Strongman can't yet confirm if there will be a volume two, the pandemic gave him the chance to improve his home studio and write material for future records.    
 "Even as things loosen up a little bit and some tour opportunities present themselves, that's something that I'm going to continue to do," said Strongman. "There were a few ideas that I had that didn't make this record that I'll continue to move forward with.    
 "But I think as an artist and as a producer, you have to be doing that all the time. You're constantly thinking about ideas and you never know where the inspiration's going to come from, but there's a lot of inspiration going on right now."   
 Strongman also wrote two songs on Set The Record, an album from the soul-rocking HOROJO Trio that was released by Stony Plain on April 1. The single "A Little Goes A Long Way" was one of them.   
 And now that Strongman officially got his feet wet as a producer with Strongman Blues Remedy – Volume One, and enjoyed it, he's interested in producing albums by other artists.   
 First and foremost, however, Strongman wants to continue focusing on being a music artist.   
 "That will never go away from me," he concludes.   
 That statement should be music to the ears of music fans.